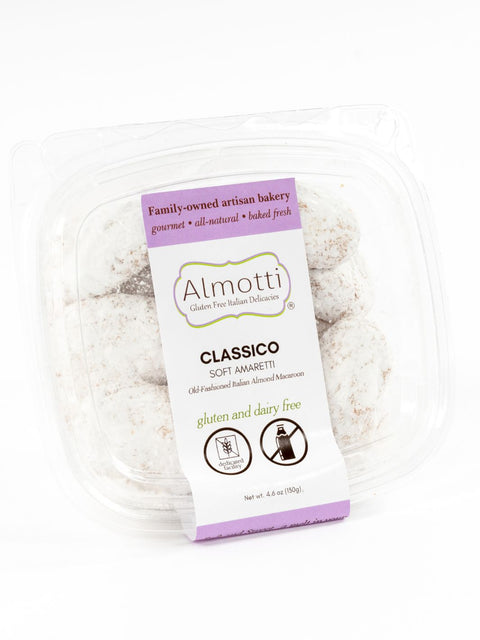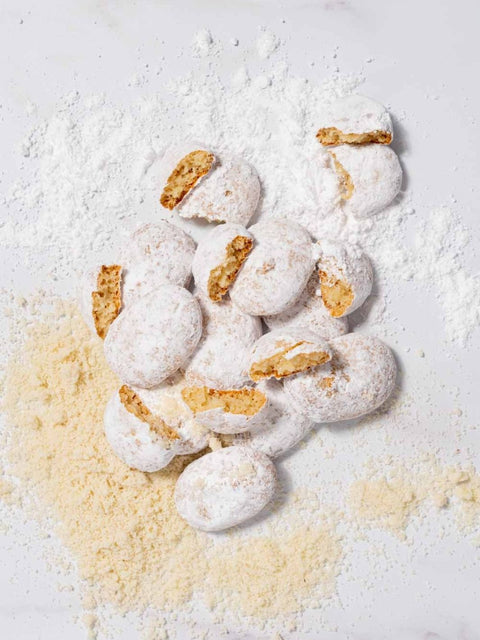 Almotti Gluten Free Italian Delicacies
Classico
SOFT AMARETTI ITALIAN MACAROON
This is the original old-fashioned Italian macaroon, a soft amaretti made with almond, egg white, honey, and cane sugar. It has no preservatives, no artificial ingredients, no chemical additives, and no artificial colors. They are all-natural, GLUTEN AND DAIRY FREE, and individually handcrafted from scratch. They have a soft cloud-like texture that melts in your mouth, and they pair perfectly with champagne, coffee, mimosas, pinot grigio, prosecco, and tea.
Key highlights:
Gluten and Dairy free
Old fashion Italian Macaroon
Made with almond flour, pure cane sugar, egg whites, powdered sugar (sugar, cornstarch), honey
Is the perfect cookie to satisfy your sweet tooth
Use the Notes Section in Cart to add any special requests...a gift message, date desired to be delivered, etc.

For a list of ingredients click here: https://almotti.com/pages/ingredients