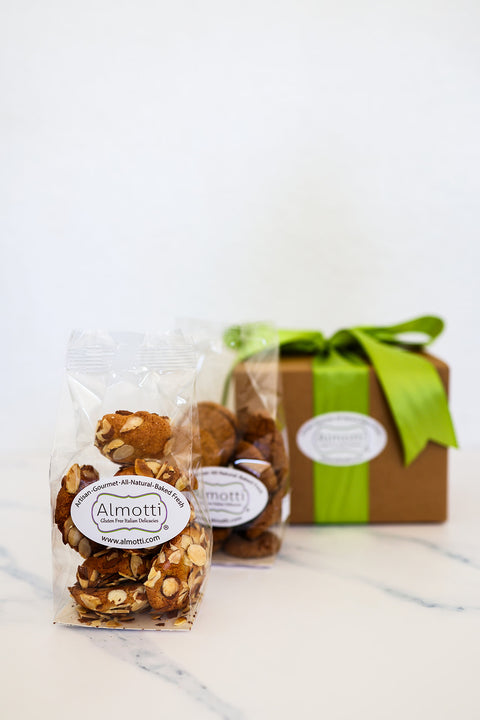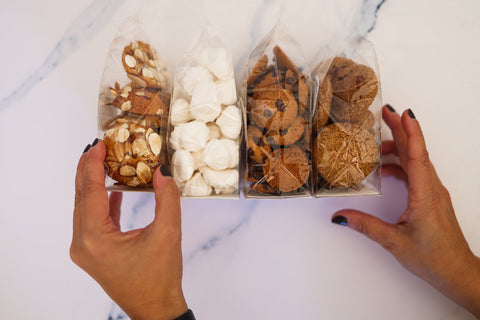 Almotti Gluten Free Italian Delicacies
Small Kraft Gift Box
gluten free
Looking for the perfect gift for your gluten-free friend or family member? Look no further than our gluten-free bakery gift box! Packaged in a stylish kraft box and finished with our signature green satin ribbon, this gift box includes 2 packs of delicious gluten-free cookies.
Choose from 4 flavors - 
Croccante - Gluten and dairy free almond soft amaretti
Amaretti - Gluten and dairy-free crunchy almond cookies
Le Meringhe - Gluten, dairy, and nut-free Italian meringues
Gocce di Cioccolato - Gluten and nut free crunchy chocolate chips cookies
Our gluten-free cookies are made with only the finest ingredients, ensuring that they are not only safe for those with gluten allergies but also delicious.
Our gift box is not only delicious but also affordable. With our low prices, you can give the gift of gluten-free treats without breaking the bank. So why wait? Order your gluten-free bakery gift box today and give the gift of deliciousness to your loved ones!